Where

was Barry & His Bike??
Digital pictures courtesy of Scott Effner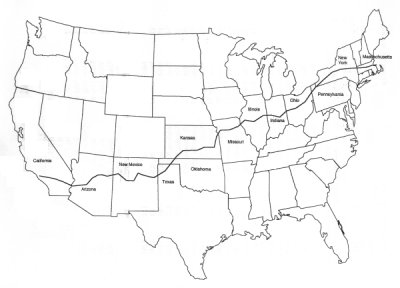 This year I am going to train hard for my

Pan Mass Challenge Ride by riding my Merlin bicycle across the US with the America By Bicycle's Fast America Ride. I have posted The Route with Mileage below and will attempt to post updates on my daily adventures from the road.

When I return I will be looking forward to receiving your generous contributions to sponsor my ride across Massachusetts with Team G&M on the Pan Mass Challenge to benefit the Jimmy Fund and the Dana Farber Cancer Institute.

Why is this site called Minuteman12?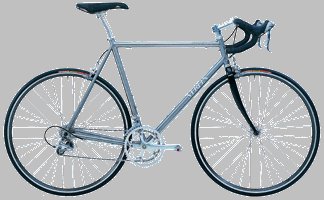 April 26 to May 28, 1999
Click on the day below for daily updates
| | | | | |
| --- | --- | --- | --- | --- |
| Date | Day | Location | Day's Mileage | Total Mileage |
| | Day 0 | Irvine, CA | 0 | 0 |
| | Day 1 | Thousand Palms, CA | 125 | 125 |
| | Day 2 | Blythe, CA | 109 | 234 |
| | Day 3 | Wickenburg, AZ | 117 | 351 |
| | Day 4 | Cottonwood, AZ | 100 | 451 |
| | Day 5 | Winslow, AZ | 105 | 556 |
| | Day 6 | Gallup, NM | 126 | 682 |
| | Day 7 | Albuquerque, NM | 143 | 825 |
| | Day 8 | Las Vegas, NM | 131 | 956 |
| | Day 9 | Tucumcari, NM | 110 | 1066 |
| | Day 10 | Dalhart, TX | 96 | 1162 |
| | Day 11 | Liberal, KS | 113 | 1275 |
| | Day 12 | Dodge City, KS | 83 | 1358 |
| | Day 13 | Great Bend, KS | 85 | 1443 |
| | Day 14 | Abilene, KS | 127 | 1570 |
| | Day 15 | Topeka, KS | 106 | 1676 |
| | Day 16 | Topeka, KS (REST DAY) | 0 | 1676 |
| | Day 17 | St. Joseph, MO | 89 | 1765 |
| | Day 18 | Kirksville, MO | 141 | 1906 |
| | Day 19 | Quincy, IL | 75 | 1981 |
| | Day 20 | Springfield, IL | 105 | 2086 |
| | Day 21 | Champaign, IL | 88 | 2174 |
| | Day 22 | Crawfordsville, IN | 80 | 2254 |
| | Day 23 | Richmond, IN | 131 | 2385 |
| | Day 24 | Marysville, OH | 105 | 2490 |
| | Day 25 | Wooster, OH | 105 | 2595 |
| | Day 26 | Niles, OH | 92 | 2687 |
| | Day 27 | Dunkirk, NY | 137 | 2824 |
| | Day 28 | Batavia, NY | 83 | 2907 |
| | Day 29 | Syracuse, NY | 113 | 3020 |
| | Day 30 | Amsterdam, NY | 127 | 3147 |
| | Day 31 | Greenfield, MA | 107 | 3254 |
| | Day 32 | Boston, MA | 114 | 3368 |
Monday, April 26, 1999, Day O, Irvine, CA, Mileage 0, Total 0
After flying back from Spain on Saturday, I stayed with Brinn in Redondo Beach. Took a short 50-mile ride on Sunday to see if my legs still worked after a week off the bike. Brinn drove me down to Irvine on Sunday afternoon. Took a short 20-mile this morning. The group checked in this afternoon and we met each other. It looks like there is about 19 riders of all skill levels making the ride, one guy from Switzerland and one from Israel. We start tomorrow at 6:30 with a short 7 mile ride to the beach to dip our wheels in the Pacific and finish up in Thousand Palms, CA, 122 miles later.
Tuesday, April 27, 1999, Day 1, Thousand Palms, CA, Mileage 125, Total 125, Total Elevation gain 3850'
We left Irvine this morning at 6:30 am rode to Newport Beach for the ceremonial dipping of our wheels into the Pacific Ocean and group picture.
Front Row: Mike Munk, Farien Christian, Herb Insley, Richard Middleberg, Giora Caspi, Ken Lundgren,
Back Row: Reine Wiley, Miriam Roberts, Todd Kalchbrenner, Dan Kendt, Scott LaPoint, Damian Wurmli, Peter Greenhow, Barry Lamkin, Scott Effner, Walter Rush, John Gaydos, Lydia Small, Tom Beebe, Pauline Lundgren,, Fred Cotsworth
Then we headed for Thousand Palms, CA. I got my first flat at 40 miles out on a bike path, after hitting a rock. After a number of climbs that gave us a total elevation gain of 3850' for the day. One of the climbs went on for over 4 miles up a deserted canyon called Jack Rabbit Trail. Then we got onto Interstate 10 for 20 miles with tailwinds of about 25mph which gave us speeds down the Interstate between 30 and 45mph without pedaling!! All in all a very good day. Tomorrow we head back onto the Interstate for 108 miles to Blythe, CA. The weather forecast is for 25 to 35 mph winds out of the NW with temperatures in the 80's. This could prove to be a sub three-hour century, if it weren't for the climbs.
Wednesday, April 28, 1999, Day 2, Blythe, CA, Mileage 113, Total 238, Total Elevation 2360'
Today we rode 108 miles down Interstate 10 from Thousand Palms to Blythe, CA. Even though we had a 25-35 mph wind out of the west a combination of climbs and cross winds slowed us a bit from yesterday's 45mph top end speeds. We were able to reach easy cruising speeds of 30-35. I rode most of the day with Walter from Atlanta, who is also maintaining his own webpage at http://www.fitnessrush.com/. This was probably our easiest day. Tomorrow we cross into Arizona and rumors are that we are facing a good four days of climbing to New Mexico. Tomorrow our ride leader, Mike Munk, is going to get out of the van and ride with us on the climbs to Wickenburg. He also has a webpage at http://members.aol.com/magenergy
Thursday, April 29, 1999, Day 3, Wickenburg, AZ, Mileage 118, Total 356, Total Elevation 3850'
Another 36 miles down Interstate 10 with some long, long climbs. One climb ran for 7 miles and the last one on I-10 ran for 10 miles. Then we turned onto Route 60 which is the straightest road I have ever seen, 80 miles straight to Wickenburg with hardly a bend in the road and only one 5 mile climb. Weather was a lot cooler today mostly in the 50's with a threat of rain all day. Steve Pearl joined us in Wickenburg this afternoon and will be with us for the next four days to Albuquerque, NM. Tomorrow we climb through Prescott, NM to Jerome at an elevation of 7000' before we descend down into Cottonwood.
Friday, April 30, 1999, Day 4, Cottonwood, AZ, Mileage 103, Total 459, Total Elevation 8150'
Climb, climb, climb, weather and more weather. Today started with 55 degrees temperatures and never got warmer than that, in fact at the top of one of the mountains it was down to about 38 degrees. We made three major climbs today with the last summit at 7053' for a total elevation gain of 8150', today. On the last climb, we went from rain in Prescott to snow at the mountain and partly cloudy weather on the descent into Cottonwood. The last climb was the toughest due to the altitude and the lack of any relief in the grade during the climb. On the descent we passed through the town of Jerome, AZ, which is an old mining town built into the side of the mountain. We stopped at one quaint bar/restaurant because we saw Dan and Walter's bikes parked outside. They had elected to stop for a prime rib dinner on the descent into Cottonwood. After Steve fixed Dan's flat we flew down the mountain to our hotel for the night. Tomorrow, we are off to Winslow, AZ with only one major climb to 6905' through Sedona and Flagstaff. Weather is forecasted to be cold and possibly wet in the morning.
Saturday, May 01, 1999, Day 5, Winslow, AZ, Mileage 108, Total 567, Total Elevation 5500'
We started this morning out of Cottonwood in freezing rain and temperatures in the mid-30's. The rain subsided for a while as we rode into Sedona and stopped at the Mountain Bike Heaven to buy some cold weather gear to make the climb to Flagstaff (elevation 6905'). It was almost 10 miles of climbing to the top of the pass out of Sedona. At the top we were wet and cold, having ridden through rain, snow and sleet. We had to slow down a bit on the descents towards Flagstaff, the hail was hurting our face. Another stop in Flagstaff at a Mountain Sports store to pick up more dry, warm clothes. When you are cold and wet the price doesn't matter. After winding through the streets of Flagstaff, we rode down a part of old Route 66 till we joined Interstate 40 with the wind at our backs again the riding was getting easier and faster. Riding on the shoulder of I-40 was a little tough due to the rough road. I got 3 flats within 3 miles. We arrived at the motel in Winslow to find that the telephones are hard-wired into the wall, so I won't be able to update my web page until tomorrow in Gallup, NM. No major climbs tomorrow, we get back on I-40 and ride 124 miles straight ahead to Gallup, NM.
Sunday, May 02, 1999, Day 6, Gallup, NM, Mileage 127, Total 694, Total Elevation 2660'
A little chilly at the start this morning as we rolled out of Winslow. We spent a little time on historic Route 66 but most of the day was spent on Interstate 40. The wind was at our backs most of the time and the climbs were not as bad as the last couple of days. We were peeling off clothes every 40 miles as the temperatures climbed from about 38 degrees at the start to about 70 degrees when we crossed into New Mexico and finished in Gallup. Tomorrow it is onto Albuquerque, 141 miles east. It promises to be a warm day with the wind out of the west.
Monday, May 03, 1999, Day 7, Albuquerque, NM, Mileage 145, Total 839, Total Elevation 2860'
Today was our longest mileage day yet. We climbed out of Gallup to the Continental Divide, elevation 7724'. On the other side of the Divide the 30 mph cross winds we were fighting turned to our backs and we started to fly until the road started to turn south and we had to lean our bikes to the right to keep from being blown over. I was beginning to wonder whether we would be able to make a distance of over 140 miles in this wind. Luckily the wind turned to our backs again and we rolled down the highway into Albuquerque at speeds from 30 to 50 mph. Tomorrow, it is off to Las Vegas, NM a short 131 miles away.
Tuesday, May 04, 1999, Day 8, Las Vegas, NM, Mileage 129, Total 968, Total Elevation 6440'
The day started out very chilly, in the 40's, and windy. The wind never subsided and the temperatures never seemed to get very warm. Got my 6th flat on this trip 20 miles out of the hotel. We climbed a number times up Interstate 25 through Santa Fe and finally into Las Vegas, NM. The wind seemed to be more on our nose or as strong crosswinds. They were so strong that we had to lean our bikes to keep from being blown over. There was a small respite about 40 miles out of Las Vegas where the winds turned on our tails and we got a great 10+ mile downhill. Onto Tucumcari, NM tomorrow.
Wednesday, May 05, 1999, Day 9, Tucumcari, NM, Mileage 113, Total 1081, Total Elevation 3030'
Today was the easiest day yet. I would never have thought that I would be calling a 113-mile day an easy day. We left Las Vegas at 6:30 this morning, took a right on Rt. 104 and followed it as straight as you could go for 113 miles. The wind was at our backs for most of the day. This was our first day in the plains with wide-open spaces, you can see for miles. The road ran straight for miles with a lot of small rolling hills before making a small bend. We came out of a box canyon to a 3-mile winding downhill. I had to keep it down below 30 mph due to the hairpin turns and the cattle grates. The view from the top of the run was spectacular. I got my 7th flat shortly after the descent, probably due to hitting the cattle grates. There was one 10 percent climb for 0.7 miles, as a small payback for our earlier descent. Dan, from Chicago, Walter, from Atlanta, and I rode most of the day together. When we got into Tucumcari, Dan, Walter and I toured the town, took 5 minutes on our bikes, and stopped in at Smitty's Barbershop. Walter and I had Smitty give us haircuts. The best part was the conversation we had with the old-timers hanging out in the barbershop. Scott La Point, from North Carolina, is making the ride to benefit Traumatic Brain Injury. The daily cards and e-mail from his girlfriend, Laura, have been giving him added incentive to move quickly to the next town. Tomorrow should be another easy day, 96 miles to Dalhart, TX.
Thursday, May 06, 1999, Day 10, Dalhart, TX, Mileage 97, Total 1178, Total Elevation 1330'
This was supposed to be an easy day under a 100 miles and no hills. But the winds were mostly crosswind to headwind, which made it feel like we were climbing hills, all day. The wind made the temperatures feel pretty cool. Another day with no chance of getting lost, straight down Route 54E from Tucumcari to Dalhart. By the time we got into Dalhart my knees were pretty sore. I stopped at the Texas State Line with Walter, Ken, and his wife Pauline, from Omaha, for a picture taking opportunity. I got to see my first Feed Lot, thousands of cattle in pens being fed and fattened up. The fertilizer they were producing could be smelled for miles. The new Look cleats I put on my shoes 3 weeks ago are wearing out and I am starting to run low on cleaning stuff and Smartfuel. I called Cece at Smartfuel and ordered some fresh supplies to be waiting for me when we arrive in Topeka. Tomorrow we cross two state lines, Oklahoma and Kansas, on our way to Liberal, KS. It promises to be a warmer day with winds out of the Northwest. Hopefully, I will be able to ride without tights most of the day.
Friday, May 07, 1999, Day 11, Liberal, KS, Mileage 115, Total 1293, Total Elevation 540'
Today was a very easy day. We ate breakfast in Texas, rode straight down Route 54, to the Oklahoma State Line for a photo opportunity. Then we stopped for lunch in Oklahoma. Everyone stripped off all their cold weather clothes from the morning, as the temperatures had climbed from the 40's at the start to near 70, at lunch. We then continued east on 54 to the Kansas State Line for another photo. Five miles beyond the State Line we stopped in Liberal, KS (home of Dorothy and Toto) for our overnight. The weather was so good and the roads so flat we were in Liberal by 1:30pm. I rode most of the day with Walter, Dan and Reine. Reine, from Thousand Oaks, CA, was so pumped by the riding she pulled us into the motel at 20+ mph. Tomorrow, we are off to Dodge City, to catch a show at Ms. Kitty's Saloon. This should be another easy day, 86 miles, as long as the winds stay light or out of the west. We get to sleep in till 6am, due to the short day.
Saturday, May 08, 1999, Day 12, Dodge City, KS, Mileage 84, Total 1377, Total Elevation 750'
This was another good day. Tom's wife Carla was finally able to access this web-site and catch up on our progress. After a late breakfast, 7am, we continued east on Route 54 with light winds on our backs and mostly flat roads. The temperatures started in the 40's and quickly climbed into the 70's. There was only one rest stop, today, due to the short mileage. We were through the lunch stop by 9:30am. Dan left our group for the Hammers today (he had to shave his legs tonight to stay with them tomorrow). Our group today was mostly Walter, Reine, Ken and Pauline. We averaged over 20 mph by the time we crossed the Dodge City City Limits. After getting into town around noon, we roamed around the old center and took another group picture.
Tomorrow we are off to Great Bend, KS. Temperatures should be even warmer, the winds favorable and mileage a short 85 miles.
Sunday, May 09, 1999, Day 13, Great Bend, KS, Mileage 86, Total 1463, Total Elevation 180'
I rode out of Dodge, this morning, with Walter, Dan, and Reine. Finally, we were able to start out without wearing tights and jackets. Temperatures started in the 60's and quickly climbed into the 80's. The winds were out of the south at 30 mph, so we had strong crosswinds most of the day. This made the day not as pleasant as it was for the last two days. But, it wasn't bad. The forecast in the morning was calling for the possibility of heavy thunderstorms, in the afternoon. We rode through a small town, Kinsley, KS, where there is a sign for Midway, USA, 1560 miles to San Francisco and 1560 miles to New York City. So, we are now halfway across the country but not halfway through the ride. We will hit the halfway point on the ride on Tuesday night, when we arrive in Topeka, KS. The road we have been following, since New Mexico, is basically along the old Santa Fe Trail. The motel tonight had an indoor pool and whirlpool, which a number of us made good use of. Then after a quick meal eight of us went to the movies. Tomorrow should prove to be a challenging day with 127 miles to Abilene, KS and a 40 percent chance of rain with the threat of thunderstorms.
Monday, May 10, 1999, Day 14, Abilene, KS, Mileage 128, Total 1591, Total Elevation 840'
Walter, Dan, and I headed east, on US56, out of Great Bend, at sunrise. We had to fight a southerly crosswind for 90 miles till we turned north to Abilene. About 15 miles out of Great Bend, John and Tom came hammering by us. A few more miles down the road, with Dan in the lead, he noticed a snake in the road, a dead one, that made him jump 5 feet to the left. The only problem was that Walter was 4 feet to his left and Dan's skewer went into Walter's wheel. This bent three spokes on Walter's wheel. Shortly after that Mike and Scott E. came cranking by and I was able to jump onto their wheel for a pull into the first sag stop. At the sag, Walter had to wait for Mike to fix his wheel, so I went riding off to keep from getting to cold. Mike swapped out Walter's wheel and chased me down, with Walter in tow, then proceeded to burn us into the lunch stop. Dan, Walter and I took off out of the lunch stop on our own to avoid having to burn behind Mike for anymore miles. Dan moved on up the road to catch up with the International Team (Fred, Lydia, Damian, and Caspi). Once we turned north on Route 15 we had the wind on our back and our speed went up to well over 20 mph, to make it an easy run into Abilene. So far we have avoided getting into any thunderstorms. We're watching a line of t-storms, on the TV, heading from the east, where we were this morning, moving to the west, towards us. Hopefully, they will move through, tonight, and leave us dry tomorrow. Tomorrow, we ride 106 miles to Topeka for a much anticipated rest day.
Tuesday, May 11, 1999, Day 15, Topeka, KS, Mileage 109, Total 1700, Total Elevation 2120'
We have ridden into eastern Kansas and whole new set of scenery. The roads are a little more rural and instead of straight flat roads, they are now rolling hills and more curvy. We fought winds out of the north all day, which were mostly crosswind and occasionally turned to headwinds. About 10 miles out of Abilene, Scott L. and Pauline slipped on some railroad tracks and went down. Scott ended up with a bent front wheel and a good bruise on his hip. Pauline wasn't so lucky she fell on her hip and fractured her pelvis. She has to spend 4 days in an Abilene hospital, then she can go home, to Omaha, to complete her rehabilitation. So, Ken and Pauline had to abandon the trip. We were all sad to see them go. Fred left the trip today, also, as he had to ride back to St. Louis for his daughter's graduation. We are all going to miss Fred also, he always had something cheerful to add to the conversation. After the rolling hills and winds today, everyone is ready for our one rest day in Topeka, tomorrow. Smartfuel came through and there was a box full of the supplies in my motel room tonight when I checked in.
Wednesday, May 12, 1999, Day 16, Topeka, KS, Mileage 0, Total 1700, Total Elevation 0'
REST DAY. Just walked around town. Did some laundry and relaxed. Tomorrow we head for St. Joseph, MO, 89 miles. The weather is supposed to be 75 degrees and clear.
Thursday, May 13, 1999, Day 17, St. Joseph, MO, Mileage 95, Total 1795, Total Elevation 2970'
"Toto, I don't think we are in Kansas anymore." Today we had four new riders join the ride, Perry (Gainsville), Bob (Chicago), Alain (Montreal), and Tibor (San Francisco). We rode out of Topeka, this morning, spending the first 11 miles winding our way out of the city. 8 Miles out of the city we reached the halfway point for mileage, on this trip. This called for a photo opportunity for those present.
Then after our lunch stop, in Atchison, KS (home of Amelia Earhart), we crossed the Missouri River. After a short stop at the Missouri State line for a photo opportunity and quote from Scott E. "Missouri loves company!"
We wound our way into St. Joseph, MO. I got some extra bonus miles missing some of the turns, today. The scenery has changed since leaving the plains of Kansas. We are getting more rolling hills and rural roads, with very small shoulders to ride on. The winds were mostly on our face or crosswind with temperatures in the 70's. Tomorrow is 140+ mile day with more rolling hills into Kirksville, MO.
Friday, May 14, 1999, Day 18, Kirksville, MO, Mileage 143, Total 1938, Total Elevation 4850'
Headwinds, crosswinds, rolling hills, and long mileage. What a day. We rolled out of St. Joseph, MO early this morning and followed Route 6, all the way to Kirksville. There was hardly any shoulder on the road for the 140+ miles, leaving us in the road to deal with cars and trucks. The winds were mostly in our faces or crosswind, making the riding hard enough. The hills were unrelenting, this combined with the wind and the mileage made for our longest, hardest day, yet. Everyone was ready for the day to end at 100 miles, but most of us muscled it out for the full day. Tomorrow should be an easier day. We head for Quincy, IL, a short 75 miles away and rumor has it that the road is going to get flatter.
Saturday, May 15, 1999, Day 19, Quincy, IL, Mileage 76, Total 2014, Total Elevation 2360'
Last night, I got my eighth flat. Just before going to bed, I noticed that my rear tire was flat, so I got up early and fixed it. We departed Kirksville under very cloudy skies and a 40% chance of showers. It was good that it was a short day because the 40% chance of showers fell all morning on us. The rain got pretty heavy at times and we could see some lightning. By the time we got to a good place for cover the thunder and lightning had stopped. We continued on past the lunch stop, in the rain, to the Mississippi River and Quincy, IL. Due to the rain, it wasn't a good photo opportunity crossing the state line. The motel was just up the street from the state line and the rain stopped shortly after we arrived. So, after dinner some us walked back to the state line for a photo.
Tomorrow, it is on to Springfield, IL. The weather is forecasted to be much the same as today.
Sunday, May 16, 1999, Day 20, Springfield, IL, Mileage 106, Total 2120, Total Elevation 1530'
The forecasted 60% chance of rain never materialized today. The road was mostly flat but we had crosswinds to headwinds, most of the day. Temperatures were in the 80's, making for a hot day with some good challenges. Broke my first spoke, on the front wheel 30 miles out of Quincy. The road had little shoulder to ride on, but the traffic was fairly light. When we went to dinner, we found Fred and his wife, Mary Ellen, there. It was good to see him; he needed to say his final good-byes. They left after dinner on their motorized bike, a BMW. When I got back to the room I found that my front tire was going slowly flat. That makes nine flats, total, two of which happened in the motel room. Tomorrow is a shorter day, 88 miles to Champagne, IL. We can't get out favorite channel, the Weather Channel, in this motel, to give us some idea of what to expect tomorrow.
Monday, May 17, 1999, Day 21, Champaign, IL, Mileage 89, Total 2209, Total Elevation 790'
It was good that today was a short 89-mile day. We were rolling along Route 54, with a slight crosswind, when we noticed the sky getting darker and darker. Then the raindrops start to fall, so we decided to jump into our raingear. By the time I had my pants and jacket on the skies opened up and we found ourselves racing down the road in a heavy thunderstorm. It got to a point that the rain was blowing so hard to my right that it was hurting my face and I could hardly keep my bike upright. I had to get off the bike and start walking for a little while. Then when it lightened up, a little, I jumped back on the bike to find a number of the riders hunkered down in a ditch by the road. As I passed, I yelled to Walter that I was heading for the barn down the road. When I approached the barn, Caspi was out at the end of the driveway flagging us into the barn. Scott E. had been leaning against the aluminum walls off the barn when one of the lightning bolts struck nearby. He got a good shock from the static electricity running through the walls. Once the rain subsided we proceeded down the road to ever brightening skies. Some of the group stopped in a café in Chestnut for some 2-foot diameter pancakes, before heading down the road into Champaign.
I arrived at the motel and received my daily letter from Jean, with a picture of the boys at Andrew's 14th Birthday party. She has been great about getting a note to me in every city. Only missed one day, which was probably due to an overload of mailings around Mother's Day. Sometimes there is a pleasant candy surprise or a picture in the envelope. Bob left us today after riding with us for 5 days. Tomorrow it is another short day 80 miles to Crawfordsville, IN. There is a threat of more rain in the morning.
Tuesday, May 18, 1999, Day 22, Crawfordsville, IN, Mileage 82, Total 2291, Total Elevation 700'
Today was an easy day. The mileage was short, the road was flat and the wind was at our backs. After winding through the streets of Champaign for the first 9 miles we got on Route 150 and flew eastbound towards Indiana. We were having a great time and stopped for a number of pictures (one at a bull statue, one at a field of goldenrod, one at the Danville City sign, again at a donut shop in Danville and once more at the Indian State Line). Dan, Walter, and I had stopped at the donut shop for the some refreshment when Scott, John and Tom showed up to partake of the donuts and take our picture.
Then we proceeded on to the Indiana State Line and into Crawfordsville. Dan, Walter and I took a short detour into town, visited a bike shop and got haircuts. We took an easy spin to the motel, where I had another letter from Jean with some Charleston Chews, which nobody else seems to have ever heard of, but they liked them. Tomorrow we ride 131 miles east to Richmond, IN, which is almost in Ohio.
Wednesday, May 19, 1999, Day 23, Richmond, IN, Mileage 132, Total 2423, Total Elevation 1750'
We headed out of Crawfordsville with light winds and relatively flat roads. There were a few navigational challenges leaving Crawfordsville, winding through Indianapolis and into Richmond. The day turned real nice with temperatures in the 70's. I rode part of the day with Walter, Dan and Scott L. After falling off from them, I jumped on with Mike, John, Tom, Scott E. and Caspi, for a while. John and Scott took off on their own from the lunch stop, while Caspi, Tom and I left together to find Scott E. hanging out at an ice cream stand 15 miles out of Richmond. So we pulled in for some refreshment. Once we arrived at the motel we decided to take in a movie and found we were easily able to get into Star Wars, on its first release day. I received the article, about my ride, that Jean put in the Mariner today and made a copy to put on the board. Tomorrow we head into Ohio and the Eastern Time Zone.
Thursday, May 20, 1999, Day 24, Marysville, OH, Mileage 107, Total 2530, Total Elevation 1780'
Today was the "Tour de Turns & Countryside". We headed out of Richmond, IN for a short century to Marysville, OH. Two miles from the motel the majority of the riders were still together, as we crossed the Ohio State Line. So there was a long stop while we took 15 pictures with 15 different cameras.
The day started out cool in the 50's but quickly climbed into the 70's. By 9am, most of us had peeled off our jackets and tights. The day was great except for a slight headwind that kept our speeds down, along with the 44 turns to navigate in 100 miles. Walter, Dan and I joined up with Alain, shortly before the first SAG stop. We all decided to ride easy, most of the day through the small towns and countryside of Ohio and enjoy the day. We got into the town of St. Paris, around noon and decided to stop in at the only restaurant in town, Candy's Family Restaurant, and have lunch there, instead of off the van. After lunch, we rolled quickly to Marysville and into the motel. I received my daily mailing from Jean, this time with black licorice. It is good to be in the Eastern Time Zone. We can now start to feel how close Boston is with three-quarters of the trip behind us. Everyone have very funny tan lines. Scott E. had me take a picture of his to send to his wife. The telephone lines out of the motel are very bad and I cannot connect, so this update will have to wait until tomorrow.
Friday, May 21, 1999, Day 25, Wooster, OH, Mileage 107, Total 2637, Total Elevation 3840'
Today was another tour through the Ohio countryside from Marysville to Wooster, 45 turns to negotiate. The weather started out at a cool 49 but quickly climbed into the 70's with fairly calm winds. We had our second mishap of the trip when Perry, Farien and I touched wheels. Farien and I went down. Luckily no one got too badly hurt and we all completed the day. Alain struggled through the day with the same stomach problem a number of us have fought through over the last week or so. Dan, Walter and I decided to have another easy day along with an unplanned lunch stop at a small restaurant in Fredericktown. After lunch we navigated 10-15 miles of detours before returning to the planned route. The last 50 miles of today's riding was pretty hilly with what seemed liked endless steep rolling hills. It is hard to believe that the trip is almost over with only a week till we roll into Boston. There is a 90% chance of rain tomorrow for our 92-mile ride to Niles, OH.
Saturday, May 22, 1999, Day 26, Niles, OH, Mileage 93, Total 2730, Total Elevation 1440'
This was another day of turns and touring the Ohio countryside with plenty of navigational challenges -- 43 turns in 93 miles. The first 30 miles were fairly pleasant until the rains began. By the time we pulled into the lunch stop, we were wet, cold and ready for the day's ride to end. We rolled out of there quickly to stay warm. I rode most of the day with Alain, Tibor, Walter, Scott, Peter and Todd. The rain finally stopped at around 60 miles, then it started to warm up rapidly. We took off our rain gear and headed into Niles, the birthplace of William McKinley. Tomorrow we ride across two state lines, 15 miles to the Pennsylvania State Line as part of the 137 miles to Dunkirk, NY.
Sunday, May 23, 1999, Day 27, Dunkirk, NY, Mileage 140, Total 2870, Total Elevation 1480'
Even though we started the day 15 miles from the Pennsylvania state line, we rode 63 miles northeast through the Ohio countryside before crossing the state line. One mile from the state line, a number of us rolled into Richardson's Root Beer stand, just as it was opening. It was a very cool place, with stools all around the outdoor stand that we sat on and ordered great root beer floats with hot dogs and hamburgers. Then we proceeded to the state line for another photo opportunity. I rode most of the day and into the lunch stop with Walter, Scott L., Peter, Todd, Tibor and Alain. I left lunch with Tibor and Alain. We stayed together past the New York State line (two state lines). About 15 miles from Dunkirk, Alain wasn't feeling to good so Tibor stayed back with him for awhile and I went on alone. Then Tibor caught up to me about 10 miles from Dunkirk and pulled me at speeds of 20 to 26 mph, all the way to Dunkirk. We were flying. This was the last day with killer mileage. Tomorrow we have a short 83 miles into Batavia, NY. The Weather Channel is calling for rain in the morning. It seems hard to believe that the trip is almost over and we only have one more state line to cross.
Monday, May 24, 1999, Day 28, Batavia, NY, Mileage 88, Total 2958, Total Elevation 3240'
The rain started before we got out of bed this morning and didn't stop till after we got to Batavia. Temperatures never seemed to rise out of the 50's. So we were wet and cold all day. Alain, Walter and I rode together all day. Our lunch break was at the Pedaling History Bicycle Museum in Orchard Park, NY. Carl, the owner of the museum, gave us a personal tour of the exhibits while his wife took some our wet clothes and ran them through the dryer. The museum was definitely one of the highpoints of our ride. I have never seen so many antique bicycles (Boneshakers, Ordinaries, and more). He even had an Ordinary that we could sit up on and take some pictures.
After two hours in the museum we had to get back out onto the road and into the rain again. Scott E. ended up getting two flats in the last 15 miles to help insure he was as wet as he could get. I discovered I had a slow leak in my rear tire, about 2 miles from the motel. I decided to run it to the hotel and changed it there. That makes ten flats, so far. Tomorrow it is on to Syracuse. The weather is not supposed to get out of the 50's and promises to be wet, again.
Tuesday, May 25, 1999, Day 29, Syracuse, NY, Mileage 116, Total 3074, Total Elevation 2520'
We left Batavia, this morning, with the threat of rain. Luckily we stayed relatively dry, the threat never amounted to more than some occasional light rain. Scott E., Damian, Lydia and I rolled out of breakfast together. Scott stayed with me all day and between his pulls and some of the strong headwinds we rolled easily into Syracuse. Damian and Lydia had rolled off on their own, at the first SAG stop. When we rolled inot the lunch SAG, we found Lydia there with a painful knee. She decided to ride the last 30 miles in the van to save her knee. Damian, Scott and I rolled on into Syracuse. Scott had predicted he would have two flats, today. It turned out that we did have two flats today, both on my bike. So that makes 12 flats, for the trip. Eight of us went to the Dinosaur Barbecue, a very cool bar, for dinner. A good time was had by all and we put our names on the wall, for all to see. Tomorrow we are still struggling with a rainy forecast for our 127 miles to Amsterdam, NY, our last night in New York.
Wednesday, May 26, 1999, Day 30, Amsterdam, NY, Mileage 128, Total 3202, Total Elevation 1940'
As we rolled out of the motel in Syracuse, the temperatures were barely into the 50's and the rain was light but steady. We spent the first 30 miles winding our way out of Syracuse and through the New York countryside. Then we mostly followed Route 5 East into Amsterdam. The rain kept up till just after 10am, but the temps remained pretty chilly. The last 40 miles the winds were mostly on our backs, which made the building hills a little shallower. I blew out a tire 5 miles before the lunch stop. While we were at lunch, the rear tire blew out, again. I had failed to notice that the last blew out was due to a hole in the sidewall. I rode most of the day with Walter and Dan. Tom had decided to ride with us most of the day and enjoy the a little more fun, casual ride to Amsterdam. About 20 miles from Amsterdam, I made the mistake of telling Tom that it looked like we would be at the motel around 4pm. This got Tom a little excited and he decided to hammer off the front to get to the hotel a little earlier. As the rest of us approached the Amsterdam City Line, I noticed that my front tire was going flat. We decided to pump it up with air and roll into the motel. So, the flat count is now up to 15, for the trip. Tomorrow, we cross the Vermont State Line and then ride 6 miles from there to the Massachusetts State Line to our last night at Greenfield, MA.
Thursday, May 27, 1999, Day 31, Greenfield, MA, Mileage 116, Total 3318, Total Elevation 5410'
We left Amsterdam on Route 67 east until we picked up Route 7 and Route 2, following the Mohawk Trail into Massachusetts. The scenery is changing to the more hilly and scenic terrain of the Berkshires. After 67 miles we stopped for our photo opportunity at the Vermont State Line. Walter, Dan and I tried to find a restaurant to have lunch at in the 6 miles and two towns we passed through in Vermont, but were unsuccessful. So we settled on a small café just after the Massachusetts State Line. Then we headed for a 4 mile climb up Florida Mountain just north of Mt. Greylock, in the Berkshires. The weather today improved quite rapidly from our murky start and temps in the 50's to cloudy and warm in the 70's. The wind was on our back most of the day. As the climbs got steeper it was difficult to stay dressed correctly. We had to strip off jackets and arm warmers on the climb. Then on the descents we were zipping up and dressing up. Today's climbing brought our total elevation gains for the trip to 81,530 feet. It is hard to believe that tomorrow we will be in Boston.
Friday, May 28, 1999, Day 32, Boston (Revere), MA, Mileage 115, Total 3433, Total Elevation 4710'
As we left Greenfield, this morning, it was mixed emotions, knowing that the journey was quickly coming to an end. The weather was one of the best we had on the trip with temperatures quickly climbing into the 70's. A number of us rode together as we headed out on one of our most difficult navigational days of the trip. Team SAP, (Walter, Dan and I), rode together for our final trip. A number of the riders were surprised to find the hills of Massachusetts were quite steep and challenging. Most of the day was spent heading east on 2A, with some minor excursions onto side streets. Miriam made the mistake, at last night's party in Greenfield, of announcing that she had not had any flats for the whole trip. So Scott L. let the air out of her front tire at the lunch stop. Just prior to lunch, I touched wheels with Alain and had a minor fall. We all successfully navigated through the streets of Concord, Lexington, Malden and finally into Revere. The majority of the group gathered at 3 miles from the beach across from Squires, in Revere, by around 3:30pm. We stayed in touch with the vans as they worked their way through the Friday traffic behind the last riders. By 5:30pm all the riders had gathered together, some had added some extra bonus miles in their attempt to traverse the streets of Malden and Revere. We rode together as a group to the beach, between the two vans, for the ceremonial dipping of our wheels into the Atlantic Ocean, where Jean, Andrew and Gregory were there awaiting our arrival. Farien was given the privilege of dumping the bottle of Pacific Ocean water, we brought with us, into the Atlantic Ocean. Then the group headed to the Holiday Inn, to pick up their belongings and prepare to return home. Twenty of us gathered at La Famiglia in the North End, for one final dinner together, before going our separate ways.
It was a great adventure ---Riding the Interstates at 40+ speeds. Crossing the desert. Climbing the mountains. Days in the plains. Being hot, cold, wet, and freezing, all in the same day. Hail and snow. Jumping into ditches during a thunderstorm and a microburst. Team SAP. The Hammers (John, Tom, and Scott E.).. Reine's everlasting good attitude and persistent spirit. 15 flats, 86,240 feet of elevation gain, 3433 miles. It was challenging, exciting and one fantastic trip.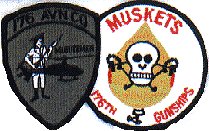 So why is this site called Minuteman12? Because a few years back that was my call-sign when I was flying Hueys in the Republic of Vietnam with some old friends of mine in the

176th Assault Helicopter Company.